Features
Special Features
Vaccination Plan
Complete Vaccination Plans are calculated according to specific itineraries and departure dates. They may be adapted by healthcare professionals based on the patient's vaccination history.
Other Features:
Consideration is given to combined vaccines
Dates are calculated to reduce the number of visits necessary
Default vaccination dates can be moved
Specific comments concerning the vaccinations are provided
Vaccine incompatibilities are indicated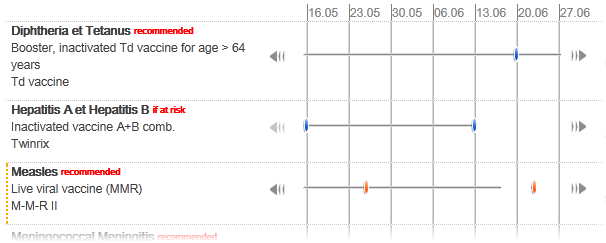 Outbreak News

Trial version

The evaluation version that you can use and test is the complete version of Tropimed. It thus includes all features of a licensed copy but the evaluation version will expire after 30 days of use.

Order

Purchase Tropimed now directly from our order form.